Statement on the electricity market design and its further development options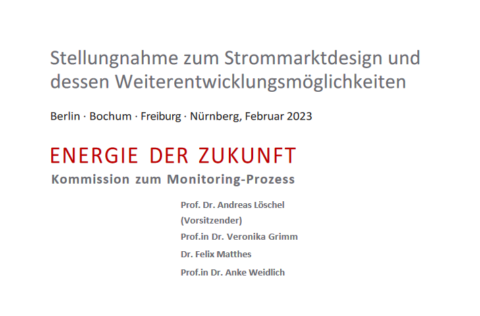 Expert Commission on the Energy of the Future Monitoring Process
To review the progress of the energy transition and the implementation status of measures, the German government has launched a monitoring process in order to be able to make adjustments where necessary. To this end, in October 2011 the German government appointed an independent expert commission with four members to review and comment on the monitoring reports to be prepared by the German Federal Ministry for Economic Affairs and Climate Action (BMWK). The monitoring reports focus on providing a fact-based overview of the energy transition.
Due to the current dynamic overall situation in the energy sector and its particular energy policy challenges, the BMWK has asked the Expert Commission on the Energy of the Future Monitoring Process, of which Prof. Grimm is a member, to prepare an analysis on the current situation on the electricity market and on further development possibilities of the electricity market design against the background of the energy transition.
A summary of this statement by the Expert Commission can be found here (in German).